Georgia Annual Fire Tag
Product Size: 5.5 x 3.0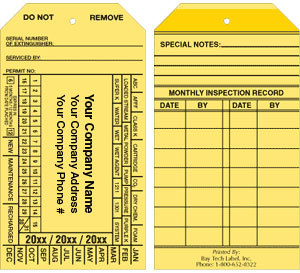 Complete compliance guaranteed!
For over 25 years, we have manufactured millions of annual fire tags & labels for thousands of fire companies just like yours - all across the U.S.A.
Customers tell us they really like the way we pay attention to the details, turn orders quickly and the customer service is outstanding. If you have any questions or prefer talking to an individual, please don't hesitate to call. 828-606-8213
*If the image to the right is not exactly what you are looking for, no problem. We do not charge for the art and we will send a proof for your approval prior to shipping on every order.
Specifications:
5.5 x 3.00
Durable 12pt yellow paper tag
Reinforced Mylar hole
Customizable with License #'s and Names
Combined quantity discount
New & re-run with changes require $39.00 plate charge
Kimdura option available - Look for Synthetic Maintenance Tags
If you are looking for more than 20,000, please call for a quote.
828-606-8213
Bundle/Roll Size: 250
Minimum Quantity: 1000
Minimum Charge: $218.18
Price Matrix
Quantity
Price Per 1000
1 or 2-colors
Price Per 1000
3-colors
1,000

218.18

239.998

2,000

166.08

182.688

3,000

123.29

135.619

5,000

86.32

94.952

10,000

62.42

68.662

20,000

46.48

51.128

Best Value!